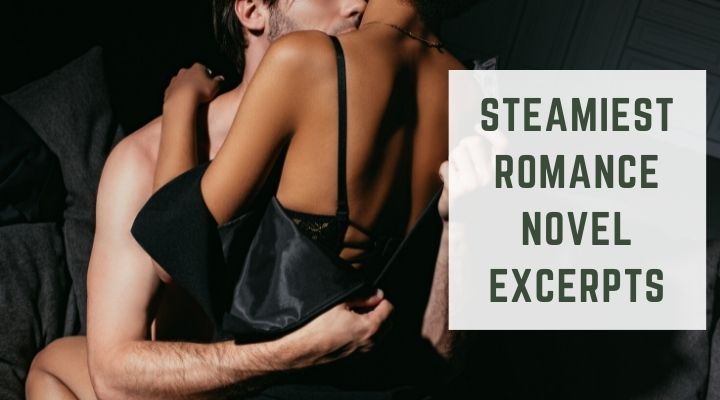 Are you looking for the steamiest romance novel excerpts to read? If yes, we have two steamy scenes from our contemporary romance novel titled A Fallen Star by AM Kusi for you.
After you finish reading the steamy excerpts, you can download the full-length novel for FREE on any retailer.
Warning: These sexy excerpts will leave you hot and bothered. You might have to get your electric friends charged up and ready to go. 😉
First steamy romance novel excerpt
Remy leaned her head towards him, parting her lips in invitation, needing to connect with him intimately, wanting to comfort him the way she used to. His mouth descended on hers, soft and slow, savoring her. His hot tongue traced the seam of her lips before flicking inside.
Mikel's hands moved to cradle her neck as she straddled him. A fire raged inside her—an inferno of true unselfish and unadulterated love. It ran much deeper than any feeling she had known before. Not the kind that fairy tales were made of, but the real, raw, painful love that comes from life and true sacrifice when two people come together and commit to growing and changing for the better. 
She broke their kiss long enough to pull her blouse over her head, yearning to show him that she was there for him without words. His eyes hungrily admired her exposed flesh. Would he see her tattoo?
His hands cupped her breasts over her white lace bra as she unsnapped the back. He pulled it off before setting it in the growing pile of her clothing as he expertly stripped her bare. She tugged his shirt off his shoulders, the firelight glowing against the contours of his muscled tattooed form—a body she once knew intimately, now so foreign to her. She gasped, tracing the ink across his heart. A constellation she knew so well. One she had on her own body. Lyra. 
"You carried her on your heart all this time, and you didn't even know," she said, exploring his tanned skin.
He finished stripping, something flashing in his eyes like he wanted to say more, but this wasn't the time. He picked her up and she wrapped her legs around him as he lowered her to the blanket. He hovered above her, his kisses melting her insides. She shivered with anticipation while he explored her body—cherishing her, worshipping her. 
Her hands wandered, reacquainting herself with him as she burned from his closeness, sparked alive by his touch. 
It had been so long since she'd been held like this, worshipped as a woman. Desire swam, pooling in her center. He trailed kisses down her neck, his teeth grazing her shoulder. The pain sent a bolt of pleasure to her core. 
He growled. "You're so goddamned perfect. Every inch of you." He kissed and nipped her chest before lazily taking turns grasping and sucking her breasts. She dug her fingernails into his scalp as she writhed from the sensations building in her womb. Every nerve was alight with erotic anticipation. 
She spread her thighs. "Please, Mikel. I need to feel you."
He shook his head, his mouth moving farther south across her belly. He licked the white ink on her rib cage, tracing the stars of the constellation. She covered the sides of her stomach, self-conscious of the marks left from carrying their child: nature's tattoos. 
"Don't you dare try to hide from me." His deep voice vibrated against her, sending a shot of heat and wetness to her center. She had forgotten how dominant he could be when they made love. He gripped her hands, binding them at her sides while he traced each line with his tongue before leaving a kiss on every mark. 
Her body lit with a fever, impatient and unable to wait another second. "Please, Mikel. I just need you inside me," she begged, completely at his mercy.
"I know, but it's been a long time since I've been with you. I wanna taste you when you come."
He still held her hands in place as he lowered his face to the junction between her thighs and slipped his hot tongue between her folds. She gasped, eyes widening. Pleasure jolted through her as he lapped up her wetness. 
"Oh! Oh, yes!" she moaned as her back arched.
He released her hands, hooking her legs over his shoulders as he used his fingers and tongue ruthlessly, seeking out her orgasm. 
The pressure built and compounded until she shattered into a million pieces. White spots flashed in her vision as her body quaked and shuddered her release.
He climbed over and settled his weight on top of Remy, grounding her as she came back to earth. His mouth crashed onto hers. The taste of her essence on his tongue made the kiss even more erotic.
"Remy. Baby, I love you so much."
She reached her hand out and slid his hardness into her slick entrance without hesitation. She wasn't the unsure eighteen-year-old girl anymore. She was a woman and what she wanted—what she needed was Mikel.
He thrust, stretching her as she adjusted to him. Five years without having him or any other man inside her was like losing her virginity again. The burning pleasure overpowered every other thought as her impending need to come overrode all else. "I love the way you feel inside me," she said, her voice breathy.
He pounded harder and faster. His eyes locked on her—glowing golden orbs in the firelight. His body tensed as his features grew serious. "You're so tight, baby. So wet for me."
"Only for you," she panted.
"You're mine, all of you," he demanded.
"I've only ever been yours," she admitted. The emotional intimacy they shared was unlike anything she imagined, and far deeper than she'd ever thought possible. This was a turning point. This was why she'd give him another chance. This was the Mikel she'd known he could be—the man she'd held out hope for. 
The mixture of his intense gaze and the whirlwind of spinning desire dancing along her every nerve ending as he thrust inside her, propelling her off the cliff. Her orgasm crashed over her at the same moment his body tensed and pulsed. They came together, eyes locked, only compounding and magnifying their connection as their souls left their bodies, reuniting for the first time in five years. Completion. Connection. The stars were aligned. Death of the old, rebirth of the new. The end and the beginning. Life and death. 
A second chance.
————
That's it for the first steamy excerpt. Get the full-length novel completely FREE on any of the retailers below.
 Amazon  |  Apple Books  |  Barnes and Noble  | Google Play |  Kobo  |  Scribd  
Second steamy romance novel excerpt
Naked and panting, Remy moaned as Mikel sucked her clit into his mouth. "Harder," she commanded.
His beard scruff scratched her thighs, the sensation only adding to the building pleasure. "You're so bossy in bed. I like it," he said before he did just as she'd asked. 
He was her only. Aching need zapped her body.
"Oh, god. Yes!" she screamed, taking advantage of the fact that they were home alone—their first night officially living together. 
He flicked his tongue, circling around the pearl that throbbed for more of his touch, teasing her. She whimpered and wiggled, every nerve ending alive and seeking the raw euphoria his body promised.
"Please," she begged.
He inserted two fingers inside, curving them upwards to her G-spot while he sucked her clit. Overwhelming ecstasy pierced through her, transporting her to the heavens. Stars filled her vision as she arched her back off the bed.
"Holy fuck!" she cried. 
"I wanna make you come all night," Mikel said, his deep voice against her tender sex sending another wave of pleasure echoing through her body.
Her heart beat wildly in her chest. The hollow ache between her slick thighs begged for Mikel to fill it. "I need to feel you inside me."
He smirked and pushed his fingers into her. "Like this?" 
"No, you. I need you inside me." She grunted in frustration. 
"You need to be more specific. Do you mean my tongue?" He licked and lapped her swollen folds.
"Your cock," she said, her body heating from lingering shyness. He was pushing her boundaries. 
He chuckled. "What my baby wants, she gets." He spread her thighs, wedging in between them. "I want to feel you so bad." 
"I'm on the pill," she said.
"You sure?" 
"I want to feel you without anything between us."
Mikel nudged the tip of his cock past her entrance, slowly sinking into her. He groaned, as her eyes fluttered from the blissful sensations. There was nothing like this. He moved with drawn-out, hard thrusts.
Their breathing synced as he rocked her, filling her body with intoxicating euphoria. 
"I'm so close," he warned.
Remy couldn't bear the thought of him pulling out and missing that connection. She was almost there too. "Come inside me. Come with me," she said.
He grunted as she squeezed him closer with the heels of her feet. 
"You're so fucking sexy. So beautiful. Are you ready?" 
She moaned in response. 
"I'm gonna come inside your tight pussy," he said, thrusting faster and harder. Incapable of forming words, she dug her nails into the flesh of his back. 
His thumb tenderly traced her cheekbone as his movements slowed, elongating the pleasured sensations. He gazed at her lovingly, touching a place she hadn't known existed inside herself—connecting them body and soul as he made love to her. Mikel kissed her, sucking her bottom lip into his mouth and raking his teeth over it. 
His actions mixed with his dirty words caused her body to combust. She splintered around him, squeezing her thighs against his hips as he growled his own orgasm, tensing and pulsing inside her. 
Panting and breathless, he smiled at her. "I love you, Remy."
"I love you too."
————
We hope you enjoyed reading two of our steamiest romance novel excerpts from A Fallen Star.
Now:
Download your FREE copy of this steamy romance novel from any of the retailers below:
 Amazon  |  Apple Books  |  Barnes and Noble  | Google Play |  Kobo  |  Scribd  
As always, we guarantee a happily ever after for every couple in each of our romance novels.
Happy reading!!!
You might also like:
Best 10 Sex Toys for Romance Readers
10 Interracial Romance Books You Don't Want to Miss
Best 10 Enemies to Lovers Books for Romance Readers
10 Funny T-Shirts for Book Lovers
9 Amazing Romance Novels with Black Heroines